The Strawberry Vale Preschool Community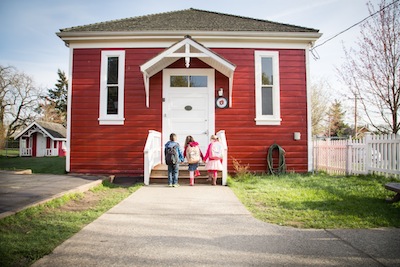 Do you want an opportunity to be actively involved with your preschooler's education? Would you like to participate in the classroom environment where you can watch your preschooler's confidence grow? Are you looking for relationships with families that have similar educational values? Do you want your preschooler to learn from qualified, passionate and highly experienced educators?
Strawberry Vale Preschool is a cooperative preschool operated by families. The families of our preschoolers come together to take part in their children's first educational experience, and to run the "Little Red Schoolhouse". Our educational program is directed by an outstanding Early Childhood Educator Teacher Gail who is not only a teacher of our preschoolers but also a mentor for parents and caregivers of preschool children.
At Strawberry Vale Preschool, we promise to foster the development of our preschoolers by encouraging independence, curiosity, and creativity through play.

We take pride in learning about parenting our preschoolers for the betterment of our children and our preschool community.
For preschoolers, Strawberry Vale Preschool is a place to learn basic values, a place to get messy, and a place to meet friends and neighbours. Preschoolers are always encouraged to explore their own interests and try new experiences.
Learning Through Play
Our education philosophy is centered around the belief that children learn the foundations of logic, reasoning, communication and problem solving from engaging in active play. This philosophy is commonly referred to as learning through play.
What is learning through play? Stacking giant coloured blocks in patterns, learning about the environment by bringing it into the classroom, learning about gravity and buoyancy with a water table, engaging with others in a positive and creative manner through pretend play and storytelling.
The most innovative learning environment one could ask for and one that is conducive to just about every life-long learning style.
For more information please read an article prepared in 2006 for the Canadian Council on Learning "Let the children play: Nature's answer to early learning" 
"Play is the work of childhood" – Mr. Rogers, Mister Rogers Neighbourhood
"Play is the highest form of research." – Albert Einstein
Meet our Teacher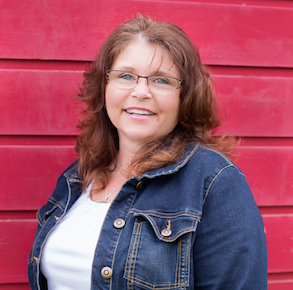 Teacher Gail is the Early Childhood Educator at Strawberry Vale Preschool. She has worked with preschoolers as a Licensed ECE since 1986.
Returning home to the Island after 20 years on the mainland I found my dream job right here at Strawberry Vale Preschool, the school I attended as a child myself! I remember coming to this school as a wide eyed, shy 3 year old and adoring my preschool teacher Mrs. Ethel Cummins.Now I am that lucky teacher that rings the school bell and opens the door to all of those lovely little faces, so full of excitement to start their day of fun and exploration. What other job welcomes you with smiles, hugs, exciting news to share and gifts of special treasures found on the way to school…perhaps a flower, a stick or a worm!
As parents, teachers and caregivers, it is my belief that our job is to foster the natural curiosity and excitement children have during these early learning years. By providing a safe and comfortable environment we allow the children to challenge themselves (and us) as they use playful learning to explore their world and marvel over each and every experience.
A Day at Strawberry Vale Preschool
Your preschooler will be welcomed into the school by small school bells rung by classmates. Coats, backpacks, and outside shoes come off, inside shoes go on, and hands are washed.
Once inside the bright and open single room classroom, there are always a variety of activities to explore each day; some new and some familiar.
The preschoolers can access an easel with paints, freestyle craft table, play dough, dress-up area, play kitchen, cars, puzzles, science/sensory tables, and the reading loft. Each day, a book can be borrowed from the reading loft to take home in their book bag.
Every class, the preschoolers have unstructured play, circle and story time, snack time, and the day always ends with outside play, rain or shine.
The Little Red Schoolhouse History
The Strawberry Vale Schoolhouse, originally sited on Hastings St., was built in 1894 for $800.00. The schoolhouse is a classic example of the western Canadian "little red schoolhouse with white trim."
​
The first teacher, until 1902, was Mr. T. Monk, who was paid $50.00 a month. Later years saw Mrs. Ethel Cummins, Mrs. Joan Salmon, and Mrs. Juanita Olsen as teachers of the children's preschool program.
​
This heritage building has survived numerous moves, renovations and threats of closure through the dedication and tenacity of many generations of parents and community members. In 1951 the building was moved by Copley Brothers free of charge so that the new elementary school could be built. The Colquitz Co-operative Playgroup renovated the building and has used it ever since. Strawberry Vale Preschool was incorporated in its current form in January 1994 as the schoolhouse celebrated its 100th birthday. It is currently situated just across the field from its original site.
More details can be found at Canada's Historic Places (historicplaces.ca).