Wonders of Water Summer Camp
This week we will focus on water play, water science, water art…water fun! Children should come prepared to spend most of the class outside and prepared to get wet. Pack spare clothes, towel, a nut free snack (picnic friendly), hat and water bottle.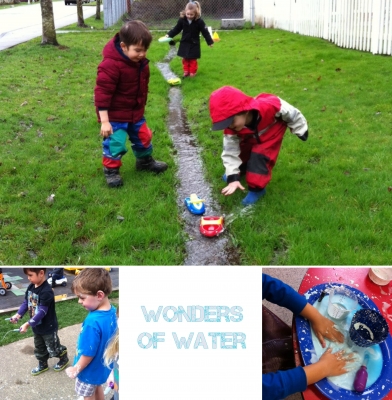 Date: August 14 to 18
Time: 9:00 am to 12:00 pm
Fee: $120.00
Eligible for preschoolers (3 to 5 years old)

Drop off and Pick Up:
You must sign your child in and out every day and give written permission for alternate pick up. We have busy days planned for your children so if you could support your child with a relatively speedy farewell in the mornings that will allow us to get started on our program sooner. At pick up time, please do not arrive early to "play". You are of course welcome to explore the forest and fields while you wait but we would ask that you wait until 5 minutes before noon before families enter the play yard for pick up.

For registration please contact enrollment.

Looking forward to seeing all of your campers!
Powered by http://wordpresssupport.org/difference-wix-v-s-wordpress/